Each One Teach One Financial Literacy Program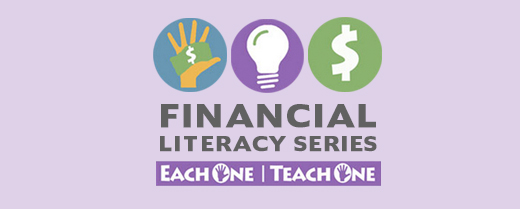 What is the Each One Teach One Financial Literacy Program?
Each One, Teach One is an approach to providing basic and plain language financial knowledge, in a community, by volunteer staff from your credit union. Our sole goal is to empower individuals to make the right financial decisions for themselves and their families.
What type of information is offered?
The program contains a series of 17 different topics that are offered at various times throughout the year.
01 – Introduction to Basic Banking
- How to choose the right bank account for your needs
- How to make interest work for you - not against you
- Ways to reduce your account and transaction fees
02 – Introduction to Basic Budgeting
- What a budget is and why should you create one
- Tips to help you reach your financial goals
- Ideas to help you adjust your spending
03 – Why Filing Taxes in Canada is a Good Idea
- How income taxes are used
- Why it makes sense to file your tax return, even if you don't owe money
- Benefits available to lower-income tax-payers in Canada
04 – Credit Cards and Prepaid Cards
- Advantages and disadvantages of credit cards and prepaid cards
- Important things to look for in a prepaid card agreement
- How to figure out the real cost of using credit and prepaid cards
05 – Loans You Don't Want
- How to calculate the reat cost of "bad" loans
- Why payday loans and pawnshop loans are a terrible option
- The real cost of using credit card advances
06 – Loans: Costs and Obligations
- How to decide what kind of loan is best for your needs
- How to understand payment terms and obligations
- How interest is calculated and why it matters
07 – Debt Smarts
- Tips to manage your debt
- When it makes sense to get a consolidation loan
- The difference between consumer proposal and bankruptcy
08 – Building a Healthy Credit History
- Why your credit history matters to you
- Simple steps to build a good credit score
- What to do if you need to get yourself out of financial trouble
09 – Identity Theft and Fraud Prevention
- How thieves steal and use your personal information
- Tips to keep your financial and personal information safe
- What to do if you're the victim of fraud or identity theft
10 – RRSPs & TFSAs
- The benefits of using RRSPs and TFSAs
- How to decide whether to invest in an RRSP, a TFSA or both
- The different kinds of RRSP and TFSA products (with no sales pitch!)
11 – Introduction to Registered Education Savings Plans (RESPs)
- What an RESP is and how they work
- How to decide what kind of RESP is best for your family
- Free money to help grow your RESP
12 – Understanding Contracts
- What makes a contract valid
- Things to watch for in a cellphone contract
- Why you should avoid rent-to-own contracts
13 – Seniors Financial Abuse Prevention
- What seniors financial abuse is
- How to recognize if you or a loved one is being taken advantage of
- Advanced planning tools to protect yourself or loved ones
14 – Home Readiness A: Renting vs Owning
- Top ten risks of buying a home
- How to figure out if renting or buying is a smarter decision
- How to calculate the mortgage amount you qualify for
15 – Home Readiness C: Cost of Ownership
- How to figure out the upfront and ongoing costs of homeownership
- Different types of mortgages
- How to pay the least amount of interest on your mortgage
16 – Home Readiness C: Finding the Right Home
- How to identify your current and future housing needs
- Different types of home ownership
- Advantages and risks of building your own home
17 – Home Readiness D: Professional Help
- How the home buying process works
- How to decide which experts to bring onto your home buying team
- Ballpark fees professionals will charge

How can I attend a session or make arrangements to have one happen in my community?
Talk to us today and we'd be happy to talk to you in more detail about the program.